This is History Page is an example taken from Cool Springs Volunteer Fire Department.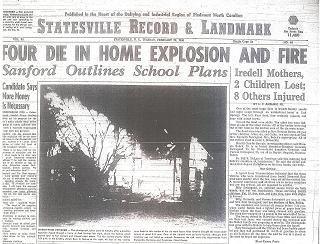 The Cool Springs Fire Department was established in 1960. The residents of the Cool Springs community realized the need for fire protection after a tragic fire in the community claimed the lives of four people on February 22nd, 1960. Later a fifth person would die from this fire. The impact this event had on the community was so great that on March 1st over 100 people attended a meeting held at Cool Springs School to discuss the concerns of fire protection in the area. Members of the Statesville Fire Department were present to encourage the community to participate and lend a helping hand in this project. A vote to establish a fire company in the community was cast and passed unanimously. A fund raising committee was organized and department officers were elected:
Reuben Starrette, Fire Chief
Carl Harper, Assistant Fire Chief
William Warren, Fire Lieutenant
Mrs. Vera Whiting, Secretary
On March 7th a second meeting was held to elect the Board of Directors. These members would be responsible for fire station location study, establishing department by-laws, and meeting with the County Commissioners to discuss funding for the department. Members elected were:
Brown Porter, Chairman
Bristol Robertson
Ralph Page
Mack Beaver
Cecil Bell
A. G. Campbell
Between 75-80 local residents submitted applications to be members of the fire department. The site for the department was agreed upon and 1 acre of land was purchased for $1500.00. On September 26, 1960 a bid was accepted to purchase a 1960 Dodge pumper at the cost of $2893.46.
Before the end of the 1960 the volunteer efforts of the community had produced a two-bay station with sleeping quarters, office, and a 1960 Dodge truck outfitted by the departments members. The first call was answered by those dedicated volunteers in December of 1960. To provide protection for community, Chief Starrette required every member to sign up for duty nights, which required at least two people to spend the night at the station awaiting any emergency calls. These early volunteers were the thread sown into the fabric which made our department. They had just as many responsibilities as our members do today. Families, jobs, church, the farm - all were put on hold when a fire call came in.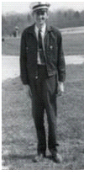 In 1963 a building addition consisting of two truck bays, kitchen, and another restroom was completed. In 1977 came the addition of two more truck bays. In 1984 a major seven-bay addition along with renovations to the original building which added a larger office and more training and sleeping areas was completed. In 1994 property was leased from Bartlett Milling Company to construct a second station to better serve the area. The Fifth Creek Road station was completed and occupied in 1995.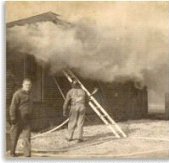 In 1973 the Cool Springs Fire Department received a fire insurance rating of Class 9 from the North Carolina Department of Insurance. In 1982 the Cool Springs Fire Department was the first rural fire department in Iredell County to receive a fire insurance rating less than 9 when the department became an I.S.O. Class 7. The new rating reflected a reduction of up to 20% in the cost of fire insurance for citizens of the community. Today in 2003 the Cool Springs Fire Department has established an I.S.O. Class 5/9 split rating. This new rating means that residents with a fire hydrant within 1000 feet of their residence are listed as a Class 5 and those residents who do not have a fire hydrant within 1000 feet are listed as a Class 9. With this improved rating the costs of fire insurance have again been reduced for citizens of our community. The Cool Springs Fire Department strives to lower out I.S.O. rating even further to help save our community even more on fire insurance premiums. With the support of the community we believe we can accomplish this goal.
---
In 1973 the first Fireman of the Year Award was presented to Charlie Stikeleather. Charlie was a charter member of the department and was elected Fire Chief in 1972.
---