Display Boards
Display Boards are electronic bulletin boards that run 24/7 on a high-definition television. They are used to present helpful, life-saving, and real-time information to first responders.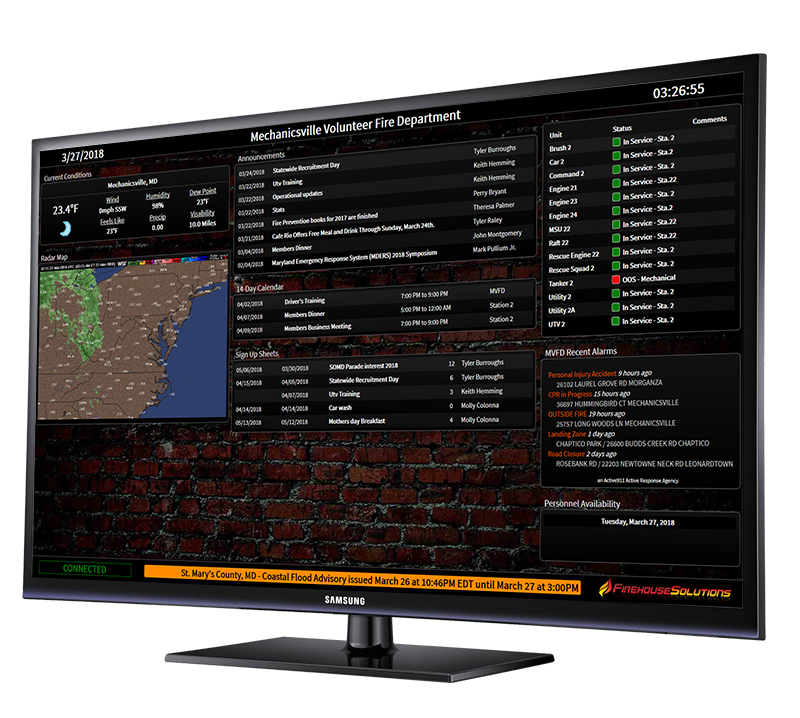 Frequently Asked Questions




Does Firehouse Solutions offer hardware/installation?


Not at this time. It is the customer's responsibility to purchase and install the HDTV. However, we do make Hardware and Software Recommendations in our knowledgebase.



How many display boards can we run?




There is no limit to the number of display boards that can be deployed. They can even be deployed in homes, businesses, and workshops.





Are display boards run in a secure environment?




Yes. The boards are locked down by IP address. They also utilize SSL encryption, if purchased.





Can a display board be used as a primary response tool?




No. Display boards operate via an internet connection. Therefore, they should only be used as a supplemental response tool.





What happens if there is an interruption in our internet service?




The display board will continue presenting the most recent data it had acquired before the interruption. The connection status indicator on the bottom left will update to "DISCONNECTED" in red. Once the internet connection is re-established, the display board will automatically reconnect with our servers and the indicator will update to "CONNECTED" in green.





When is the ticker on the bottom activated?




The ticker on the bottom of all display boards is activated by severe weather alerts from the national weather service.





What kind of real-time information can be displayed on the board?




Real-time information can be displayed through the use of widgets. Currently, we have built widgets for Active911, Announcements, Calendar, Databases, Discussions, Duty Scheduling, Images, Signup Sheets, and Weather. You may also use an Embed Code widget that supports custom HTML.